by Gus Wynn
Straight from Little Steven's Underground Garage it's THE DOUGHBOYS coming to Nyack on Sat May 8.
The Doughboys are amazing musicians of the first order '€" lead singer Myke Scavone led 70's hard rock ensemble Ram Jam whose smash hit '€œBlack Betty'€ reached #18 on the Billboard charts; drummer Richard X. Heyman has played with Brian Wilson, Link Wray, Jonathan Richman and Ben E. King. Guitarist Gar Francis played CBGB's alonside Blondie, The Talking Heads and The Ramones and performs on the Billy Idol hit "Mony Mony". Bassist Mike Caruso has recorded with Jimi Hendrix!
The Doughboys were one of the most popular of central Jersey's bands in '€˜66 & got a recording contract with Bell Records by winning a battle-of-the-bands on Zacherle's Disc-o-teen TV show. During the summer of '68, they were the house band at the legendary Café Wha? in Greenwich Village. Back together for eight years, the Doughboys are today heard regularly on Little Steven Van Zandt's Underground Garage and radio stations the world over, gigging at venues like B.B. King's, Maxwell's & The Stone Pony where they have recently shared the stage with The Pretenders, The Electric Prunes and Robin Trower.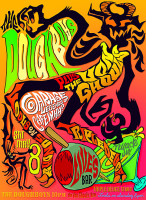 Also appearing are local garage-punk-bubblegum howlers THE VON GHOULS plus NJ '77 punkrockers TRIPLE DEUCE and Westchester's own FOOLS ON SUNDAY who are currently recording with Andy Shernoff of the Dictators. Bam-a-Lam!
Show starts at 8pm, (Doughboys play approximately 10pm) at Olive's Bar, 118 Main St, Nyack, NY 10960