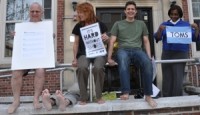 by Joanne Zornow
Whether you're strolling up Main Street in stilettos, running shoes, clogs or flip flops, shoes say a lot about a person's lifestyle. But this Thursday, Nyack is going shoeless, and that will say a lot, too.
Nyack is joining the One Day Without Shoes international effort to help protect children, too poor to buy shoes, from exposure to soil-based diseases, cuts and wounds. The One Day Without Shoes initiative was launched by TOMS Shoes, an American shoe company that donates one pair of shoes to a child in need for every pair it sells. Events will take place in Venice, Italy, London and Dubai. In the U.S. alone, more than 1,000 events are scheduled.
Maria Whittingham, owner of Maria Luisa Boutique and ML Gifts and Accessories is leading Nyack's first One Day Without Shoes campaign this Thursday. She worked with the Nyack Board of Trustees to make the event a village-wide collaboration. '€œWe are asking people to go the day, part of the day or just a few minutes barefoot to experience a life without shoes first-hand, and to help spread awareness of the impact a simple pair of shoes can bring to a child's life,'€ said Whittingham.
"The great thing about Nyack is you can attend a board meeting where serious issues are being discussed — and the board isn't wearing any shoes," says Trustee Jen White whimsically. "It's a fine community that can embrace the serious and silly in one gesture, all while discussing village business."
Several events are planned in Nyack, including a 4p walk from ML Gifts and Accessories at 75 S. Broadway to Village Hall. Whittingham will donate $2 to Friends of TOMS and the One Day Without Shoes campaign for everyone who completes the walk on Thursday. She will donate $1 for everyone who fills out a pledge to go shoeless for the day.
For more information on this event visit MariaLuisaBoutique.com or contact Marissa Danney at (845) 358-1293. Learn more about the international event at OneDayWithoutShoes.com.