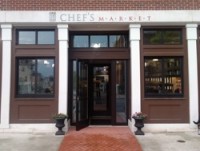 by James K. Willcox
Nyack, April 16 — With the possible exception of something related to parking, the question you are most likely to hear villagers ask might be '€œWhen will that new market on South Broadway be open?'€
After six long  years of effort, the Chef's Market, located on the former grounds of the Broadway Theatre, will open its doors today, ending the ritual of passersbys peering through the small openings in the papered windows to see how work was progressing.
As envisioned by owner Jeff Sapounas, Chef's Market will be a full-service market providing quality, everyday items, plus specialty foods and prepared foods made on premises with high-quality, fresh ingredients. The slogan of the store is '€œFrom Our Kitchen to Your Table.'€
Sapounas is a 17-year Nyack resident who attended the Culinary Institute of America before cutting his culinary teeth first at the landmark French restaurant Lutece in New York, and then later at both Balducci's and Whole Foods markets. But now that Sapounas and his wife, Lauren, have three children'€"two currently in the Nyack school system'€"they decided that the time was right to open a food market in their home town.
'€œWe see ourselves serving local Nyack by providing a truly reasonably priced, one-stop shop for people who appreciate quality and value,'€ says Sapounas.
'€œOur philosophy is to provide the best of the basics: clean, quality food made with the finest ingredients.'€ But Sapounas says Chef's Market isn't exclusively a '€œgourmet'€ store stocked only with fancy, high-priced goods. '€œNyack is a diverse community, and we want our store to be approachable to everyone. We'll be stocking a mix of everyday and gourmet foods, so customers can make their own choices as to what to buy.'€
Highlights of the store include a prepared-foods section, a full-service meat department with a resident butcher and daily chalkboard specials, a fresh-fish counter that receives daily deliveries from the Hunts Point fish market, and a bakery with an on-premises baker.
Also lining the periphery of the store are a deli, dairy and fresh-produce sections, a cheese department with a mix of commercially available and artisanal cheeses and refrigerated cases for beverages and frozen foods.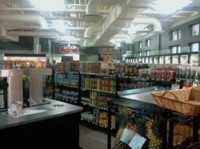 Packaged goods, including many organic items, are stacked on shelves that run through the center of the store. In the rear of the shop are areas for non-perishable items, such as paper towels, trash bags and cleaning items, plus a small pet-food rack.
The chef-prepared foods will include full meals, side dishes, soups, sandwiches, and salads. '€œWe want to take the effort and pressure out of cooking for busy people by making it easy for people to feed themselves, and their families, with healthy, clean and delicious food,'€ Sapounas says. All the cooking is done on-premises in a state-of-the-art kitchen located in the basement.
Sapounas says the market's debut is a "soft" opening with a grand opening planned for late May or early June. In the works are plans for a few special services, including the ability for someone to call in an order, pull up in front of the store, and have the order brought out to the car. Chef's Market will also offer free local delivery for orders of $25 or more. Sapounas says there will be some inside seating at the front store, as well as at sidewalk tables in the nice weather. Chef's Market also offers a full catering operation for events large and small.
The site for today's Chef's Market originally housed a general store/trading post back in the 1880s. It later became the Broadway Theater, a historic building that had fallen into disrepair and was demolished in April 2004. Sapounas and his local architect took pains to incorporate many of the old theater's elements into the design of the new building.
Now that the market is open, Sapounas believes that the property has come full circle. "We feel like it's been restored to its original function'€"as a neighborhood market and meeting place."
Chef's Market is located across the street from the YMCA and the HSBC bank at 20 South Broadway in Nyack. It will be open during Nyack's first street fair of the season on Sunday, April 18 and 7a-7p seven days a week.
Photo Credit: Nyack Library