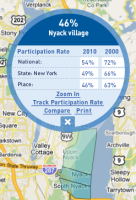 Nyack, April 2, 2010 — Upper Nyack has got bragging rights with almost a ten point lead over Nyack and South Nyack with Piermont even farther behind. Clarkstown and Orangetown are neck and neck with CTown holding on to a slim three point lead.
People, there's still a chance to be #1! Let's get off the couch and show some effort! Mail in your census forms! They're due back by April 15. If you tarry the tally don't be surprised if you get a knock at your door.
According to the Census Bureau, the mail return rate for Nyack and South Nyack is 46 and 47 percent respectively trailing Upper Nyack's 56 percent of mailed census forms having been completed and returned. Nyack and South Nyack currently trail the 54 percent national average for returning census forms.
In the 2000 Census, the villages of Upper, South and Nyack finished with 77, 61 and 63 percent participation rates. The Bureau of the Census has doubled their efforts to increase participation in the 2010 Census through advertising, increased media awareness and extensive community outreach programs.
If you haven't mailed back your form there's still time to do so: 2010 Census questionnaires will be accepted by mail through mid-April. Beginning May 1, census workers will begin going door to door to households that failed to mail back their forms. It costs 42 cents to collect data by mail and a whopping $57 per household to collect these data door to door.
Source: census.gov, 4/1/2010
See Also: A Tour Of The Census Form, NYT 4/2/10