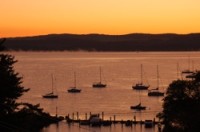 by Dave Zornow
Why is Ely, Minnesota cooler than Nyack, NY? Let me count the reasons: 94,917 to be exact. That's how many more votes Ely has than Nyack in BudgetTravel.com's online poll to determine the Coolest Small Town in America.
Now, I'd hate to accuse this former mining outpost on the Canadian border of stuffing the ballot box, but this little town with a big chamber of commerce has almost 26 times as many votes as it has residents (2,000 census 3,724).
BudgetTravel.com says a "cool small town" must fewer than 10,000 people and has to be on the upswing. "It's a place that's beginning to draw attention and new residents because of the quality of life, arts and restaurant scene, or proximity to nature," says BudgetTravel. "And cool doesn't mean quaint. We want towns with an edge, so think avant-garde galleries, not country stores."
Ely may outnumber Nyack in bears, but we outnumber them in bars. In fact, we even have a bar named after a black bear. They can't touch us in the arts and the Hudson and the Palisades round out our nature pedigree.
There's a place on the Budget Travel site to submit comments and pictures about why Nyack is cooler than say, Cooperstown, New Jersey's Barnegat Light, NJ, Ojai, CA, Stowe, VT or Brevard, NC.
Attention Nyack boosters: can you say "free national publicity?" Local realtors — put down that MLS sheet and jump online! Local Barkeeps: can you get any better and cheaper publicity? People! Have we learned NOTHING from Stephen Colbert about how stuffing the ballot box can put you on the map? (actually, it put his name on the International Space Station)
Budget Travel says that Ely rocks because they DO great April Fool's pranks. "In 2008, a press release announced that Ely was being sold to Canada to boost tourism." Nice, but nothing compared to Nyack's April 1, 2010 Declaration of Independence from Orangetown and the formation of the independent Republic of Nyack. Take that, Elyians!
To vote for Nyack, go to BudgetTravel.com, select on Nyack's location on the map and click Vote. The poll closes on May 9, so don't forget to vote early and vote often!
Sources: BudgetTravel.com, Wikipedia, "Black Bear Spotted on RCC campus," Journal News 4/26/10
Here's what BudgetTravel.com has to say about Nyack. If you have photos or comments to add to this description, there's a place to upload photos and add additional information.
Less than an hour north of New York City, Nyack sits on a natural swelling of the Hudson River called the Tappan Zee. Known for its thriving theater scene and tiny antiques shops, Nyack delivers stunning views of nearby Hook Mountain and sailboats drifting up the river. The town's Edward Hopper House Art Center was the birthplace and boyhood home of the famed realist painter known for his melancholy urban nightscapes and lonely sun-drenched lighthouses. The facility offers changing exhibits and summer jazz concerts in the garden.

History is alive in this village of stately yet colorful Victorian homes. Perhaps too alive. In the landmark 1991 New York Supreme Court case Stambovsky v. Ackley, a Nyack house seller was sued by a buyer for not disclosing the home's "phantasmal reputation." In other words, the property was allegedly haunted by two female ghosts in hoopskirts and a Revolutionary-era male ghost. The court ruled in favor of the buyer, who was allowed to legally break his contract. The existence of ghosts in Nyack should come as little surprise'€"Sleepy Hollow lies directly across the Hudson.