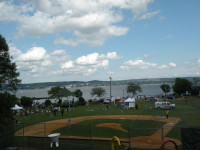 by Richard Kavesh
With Spring right around the corner, it's a good time to think green. Next weekend begins daylight savings time, Spring begins in two weeks and Nyack's April 18-25 Earth Day follows shortly thereafter.
It's a good time to act green, too. Nyack residents can get in on the ground floor of a new effort to make our village the greenest community in Rockland County by attending the initial meeting of Nyack's new Environmental Advisory Committee on 3/8 at 7p in Village Hall.
In 2008, the Village of Nyack signed on to the Mayor's Climate Protection Campaign, also known as "Cool Cities." There are many opportunities for Nyack to look at local environmental issues that have the potential to make Nyack a healthier, greener village as well as potentially save taxpayer dollars.
Up until February 11th Nyack didn't have a committee charged with reviewing the environmental impacts facing our village, but many citizens expressed interest in forming such a committee. That's one of the reasons why the Village Board authorized the formation of an Environmental Advisory Committee at our February 11th meeting.
The purpose of Nyack's Environmental Advisory Committee to study and develop recommendations on issues such as:
Energy alternatives to reduce fiscal impacts and environmental costs
Water quality and storm water management
Enhancement and/or enforcement of village ordinances, as they relate to environmental issues affecting village residents.
The cleanliness and/or beautification of our air, streets, parks, and river and the preservation of green space
Coordination with existing committees, boards,  and local organizations on common issues
Building code and planning restrictions and recommendations for better site design and low impact development
Environmental education for Nyack citizens about the positive impact they can have through their actions and choices.
If you're interested in joining the Committee but can't attend, please call me at 353-1935, email me at richard77@optonline.net or contact Chair Deborah Turner at 480-9006 (cell) or email her at deby1012@verizon.net
Here's to a greener, cleaner Nyack. One small step all of us can take is to plan ahead so that we can go one day a week (or more) without driving our cars. See you as I walk around the village.
Richard Kavesh is mayor of Nyack, NY.