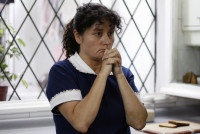 It's Sunday at the Movies with Rivertown Film's new series at the historic Lafayette Theatre in Suffern.
The series will begin with Sebastián Silva's award winning film, THE MAID on Sunday, March 14th at 11:30 AM. This Chilean film won the World Cinema Grand Jury Prize at the Sundance Film Festival.
Rockland County-based Rivertown Film Society is devoted to celebrating, exploring and promoting the art of the motion picture through film screenings and educational programs. '€œWe are excited to have this rare opportunity to show the best in recent foreign and art films in beautiful  35 millimeter film prints at the gorgeous, comfortable and historic Lafayette Theatre,'€ says Matthew Seig, Executive Director of Rivertown Film. '€œThese critically acclaimed and award winning films really come to life on the big screen. It's a treat to bring a friend or family member and to luxuriate in great filmmaking and rich imagery on a big screen in contrast to your computer or television screen.'€
In addition, on March 21 and 28, the Meet the Filmmaker program will feature live pre and post screening appearances by individuals involved with each film. Jill Footlick, producer of the PRIVATE LIVES OF PIPPA LEE will speak at the March 21 screening and novelist Robert Kaplow (ME AND ORSON WELLES) will speak at the March 28 screening. Meet the Filmmaker has been funded in part by the Experimental Television Center's Presentation Funds program, which is supported by the New York State Council on the Arts.
All films in the Sunday series will be presented on 35mm film and shown at the Lafayette Theatre, 97 Lafayette Avenue, Suffern, NY. Tickets are available only at the door and cost $9 for general admission, $7 for students, seniors and general members, and $6 for student and senior members. More information is available by calling 845-353-2568 or by visiting www.rivertownfilm.org
The Lafayette Theatre (www.bigscreenclassics.com) is the area's only historic single screen movie palace showing the best in first run films, classics from the golden age of cinema, and specialty programs.
Here's the '€œSUNDAY AT THE MOVIES'€ schedule through May 2:
Sunday, March 14 '€" 11:30 AM
THE MAID|
Directed by Sebastián Silva
With Catalina Saavedra
Chile, 2009, 95 minutes,  not rated
World Cinema Grand Jury Prize, Sundance Film Festival
Raquel, maid to a large family, moves through the house, performing her chores day in, day out. She seem almost part of the furniture-but there's more to her than meets the eye. Her position in the household is rocked when two new maids are brought in to help her. Raquel's blanks are filled in, and the story veers into unexpected, rich terrain.
Sunday, March 21 '€" 11:30 AM
PRIVATE LIVES OF PIPPA LEE
Directed by Rebecca Miller
With Robin Wright Penn, Alan Arkin, Winona Ryder, Julianne Moore, Keanu Reeves
USA, 2009, 98 minutes, rated R for sexual content, drugs
Pippa, closing in on fifty, is facing the proverbial midlife crisis. Ghosts of the wild child she'd been are at odds with the domesticated suburban wife she has become. Moving somewhat detachedly through her days, she hasn't truly reconciled her two selves'€"and it's backing up on her. Settling down in order to save oneself can be undone, because people change, and happy endings are never guaranteed.
**Meet the Filmmaker: Producer Jill Footlick**
The Meet the Filmmaker has been funded in part by the Experimental Television Center's Presentation Funds program, which is supported by the New York State Council on the Arts.
Monday, March 28 '€" 11:30 AM
ME AND ORSON WELLES
Directed by Richard Linklater
With Christian McKay, Zac Efron, Claire Danes
USA, 2008, 114 minutes, rated PG-13 for sexual references
A tribute to youthful creative ambition, and a teenager's brush with greatness, the film centers around one hectic week in 1937. Orson Welles's Mercury Theatre production of Julius Caesar is in rehearsal, and aspiring thespian Richard stumbles into a minor role. Onstage and off, he learns lessons about show folk, who aren't always as glorious as the art they're making. But '€¦ disenchantment is part of the magic.
**Meet the Filmmaker: Novelist Robert Kaplow**
Sunday, April 4 '€"
EASTER SUNDAY
No film
Sunday, April 11 '€" 11:30 AM
THE MESSENGER
Directed by Oren Moverman
With Woody Harrelson, Ben Foster, Samantha Morton, Jena Malone
USA, 2009, 105 minutes, rated R for language and some sexual content
Sergeant Will Montgomery is home from Iraq with a medal and a new job in '€œbereavement notification.'€ Accompanied by an older officer, he shows up at the doors of the next of kin to deliver the worst imaginable news. A camraderie develops between these men, who handle their tasks and live their lives in contrasting ways. The psychological complexities of war and its consequences are honestly conveyed.
Academy Award nominations for Supporting Actor, Original Screenplay
Sunday, April -18 '€" 11:30 AM
SÉRAPHINE
Directed by Martin Provost
With Yolande Moreau
France, 2008, 125 minutes, French with English subtitles, unrated
Based on a true story, Séraphine is the story of a housekeeper living in 1930s France. She's eccentric, mocked by the locals. She is also a self-taught primitive artist.  Séraphine works for Wilhelm, a German art collector and critic, a gay man, also an outsider. They become partners, and though Séraphine's career is interrupted by war and the Depression, her work is today exhibited in some of the world's leading museums.
7 French Academy Awards (Césars) including Best Picture and Best Actress
Sunday, April 25 '€" 11:30 AM
A SINGLE MAN
Directed by Tom Ford
With Colin Firth, Julianne Moore, Matthew Goode
USA, 2009, 101 minutes, rated R for nudity/sexual content and disturbing images
The year is 1962, and George has just lost his long-time lover, Jim. Over the course of one day he confronts his grief but also engages in political discourse (about the ongoing Cuban Missile Crisis) with his students, is flirted with several times, shares the company of an old friend, and finds himself able to appreciate the beauty and sensuality the world still offers.
Academy Award nomination for Best Actor.
Sunday, May 2 '€" 11:30 AM
BROKEN EMBRACES
Directed by Pedro Almodóvar
With Penélope Cruz
Spain, 2009, 127 minutes, Spanish with English subtitles, rated R for sexual content
Harry Caine is a writer and former film director, rendered blind from a car accident. His past is a secret, but circumstances conspire to pry it open, and he's compelled to tell the story of the man he used to be. Then, he was directing a film and embroiled in a perilous affair with his leading lady. A narrative full of twists and reversals is revealed, and it's no mere potboiler.
Best Foreign Film, Broadcast Film Critics
##