An eco-friendly and electrifying

new business idea

for Nyack.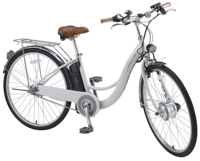 by Dave Zornow
Nyack, a village with 10,000 adults in a three mile radius, would seem an ideal place to '€œrun into town'€ for errands. But parking is problematic. You could walk or bike, but that takes time and probably means climbing a few very serious hills along the way depending upon where you live.
However, there's a low cost option for taking short trips to town that's popular in Europe,  China and the Pacfic Northwest that's just right for Nyack's congested downtown. It doesn't use gas, can go 20 miles on a nickel and isn't intimidated by the climb up 5th Avenue or Route 9W.
It's an electric bike, capable of up to 20 mph with a range of 18-60 miles per charge. No license or parking space is required.
"The electric bike is the equivalent of walking on a moving sidewalk,'€ says Scott Balson, co-owner of The Electric Bicycle Store in Ft. Lauderdale and Miami Beach. '€œYou are pedaling but you get a rush. Everyone who test rides one returns with a smile on their face."
The electric bike owner profile is similar to the Prius owner '€" except that you can probably buy an electric bike for less than it costs to fuel a Prius for a year. '€œElectric bike owners like to have fun and get a little attention, too,'€ says Balson. '€œThey are environmentally passionate people who want to make a statement.'€
Balson calls life without fill-ups '€œNo-PEC.'€ Miami Beach resident Decio Sales-Filmo says his electric bike has reduced use of his car so much that he gets gas once every three months.
The Website electric-bikes.com offers a lifestyle assessment to help consumers decide if plugging in instead of filling up is the right move. '€œOf the errands run by family members, how many are within five miles of home?'€¨ Trips up to one mile from home are quicker and easier on an electric bike than by car. Trips up to five miles (ten miles round trip) are easy. Multiple stops combined in one trip on an electric bike are convenient and fun.'€
They are also an ideal ways to get around in congested areas. '€œI am in love with my electric bike,'€ says a Fort Lauderdale electro-cycle enthusiast. '€œWhile driving, I have never experienced running my errands without sitting through at least six traffic lights. The electric bike has cut my time by 70 percent.'€
Balson says the popularity of electric bikes in San Francisco speaks volumes about how they handle hills. '€œA higher wattage motor is a better option if you live somewhere with a lot of hills. Electric bikes can go 18-60 miles on one charge but that range will suffer if you are climbing a lot of hills.'€
Most bikes will fully charge in 3-4 hours. Prices range from $700-$4500. There are a variety of styles including foldable models, quick charge bikes and unexpected features like cruise control.
When gas prices surged five years ago, the eco- and economical Nyack villagers embraced Toyota's Prius. In the coming years, maybe Nyackers will join the millions around the world who plug-and-pedal to get where they are going.
Sources: Electric Bicycle Store, electric-bikes.com
See also: