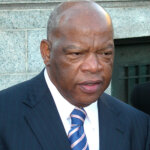 by Cliff Weathers
Congressman John Lewis, one of the protagonists of the 1960s civil rights movement, will speak at the Pearl River Hilton on April 8 at 6p as part of the Nyack NAACP's Freedom Fund Dinner.
Lewis became nationally known during his prominent role in the Selma to Montgomery marches, where he marched side-by-side with Dr. Martin Luther King. During the first march, Lewis and other peaceful protesters were beaten mercilessly by the notoriously racist Alabama police. Lewis's skull was fractured and his wounds are still visible today.
In 1986, Lewis was elected to Congress where he serves as a lion of civil liberties. He was the first member of Congress to call for the impeachment of George W. Bush and he is a staunch opponent to the Iraq War. Lewis has been one of the strongest proponents of health-care reform in Congress.
Also honored at the dinner will be several local educators, NAACP mentors and the Haverstraw Town Board. More details to come.