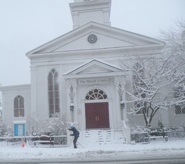 by Richard Kavesh
The Nyack Village Board will hold its regular meeting tonight, February 11th, at 7:30 in Village Hall, preceded by our usual workshop at 6:30. Both, of course, are open to the public.
Items on the agenda include: a special presentation on the progress of the downtown streetscape; a presentation regarding the village's newly proposed Environmental Committee; a proposal to reduce the village's affordable housing requirement to 10% on new residential developments; and the RFP (Request for Proposal) for the '€œsuperblock.'€
My thanks to all our dedicated workers who braved the elements to work at Village Hall on Wednesday, the workers at the Water Plant who kept our water flowing without a hiccup or a hitch and to our Department of Public Works for an outstanding job in staying one step ahead of the '€œSnowmageddon'€ that hit us (and is still hitting us as I write this). I walked the village for about three hours this afternoon, and it seemed that I crossed paths with a DPW truck everywhere I walked, even in Memorial Park.
For those of you who stayed indoors today during the Blizzard of 0210 2010, you can take a look at the winter wonderland that was Nyack today by clicking on: http://picasaweb.google.com/RichietheK/TheBlizzardOf2010Feb102010#
Happy Valentine's and Presidents' Day to all.