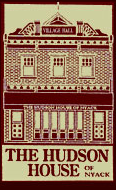 by Tracie McLee
Three artists/groups perform Friday 2/12 as THE BIG CHILL Concert Series, a musical showcase featuring local musicians and bands, continues at The Hudson House. Friday's show features Steev Richter,  Dan Barrios and Shaun and Tron Harris.
Local talent Steev Richter has collaborated with some of the top artists in the music business.  Appearing on the music scene in the early 1990's, this singer/songwriter's smooth vocals and honest lyrics keep audiences coming back.  His fifth album is called '€œOnly Always.'€
New to the Nyack music scene is Dan Barrios.  Dan is a seasoned guitarist and a Mark Anthony sound-a-like. Dan, who is working on his first album, was born in Columbia but now calls Pearl River home.
Hip Hop/Rock duo Shaun and Tron Harris are brothers who are living their dream of a career in the music business. Their soulful rhythms and unique lyrics bring crowds to their feet while performing at local open mics and coffee houses.
The Hudson House is located at 134 Main Street in Nyack. Doors open at 9p and the music starts at 10p. Admission is $10.  For more information, please call 845-548-4493.
Tracie McLee is founder of Madame Sassy Productions which is producing The BIG CHILL Concert Series.