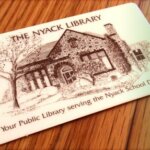 There's a special election on Tuesday Feb 9 for The Nyack Library District to decide if Michael Growney of Upper Nyack or Deirdre O'Hagan of South Nyack will join the library board. O'Hagen and Growney both received 107 votes during the Jan 11 library trustee election requiring this tie-breaker vote.
Registered voters living in the Nyack School District can cast their ballots at the Nyack Library between 10a and 9p on Tuesday. Valley Cottage residents will vote at the Valley Cottage library. The Nyack Library District (Nyack, South Nyack, Upper Nyack, Grand View, and the parts of Upper Grandview and Central Nyack) shares the same boundaries with the school district.
Michael Growney was one of four candidates nominated by the Library Board. Deirdre O'Hagan was added to the ballot after collecting 41 signatures of registered voters in the library district.