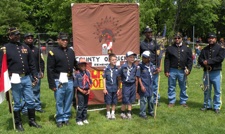 The Rockland County Buffalo Soldiers will present their first annual award dinner on Saturday 2/13 at the Nyack Center.
This event, in honor of  African-American History Month, will pay tribute to some of the early military efforts by black men and black women and their contributions to the country's quest for '€œliberty and justice for all.'€
Medals of honor will be awarded to local heroes and heroines, some of whom have never been recognized for their historical and on-going commitment to the Nyack and Rockland County community. There will also be good food and wonderful Afro-Centric entertainment.
A donation of $25.00 or less is requested. All funds raised will be used to  divert trouble-prone youth from criminal activity by providing structure, discipline and positive direction to their lives.
For additional information about the Rockland Buffalo Soldiers please call: 845-727-7212, 845-570-0698 or 845-353-6680.