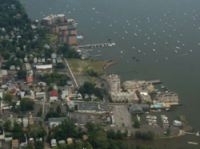 by Dave Zornow
Nyack, Jan 2 — Elections, fireworks, parking, boating, sailing, ROMPing and drinking were some of the big stories of last year. Here's our countdown of Nyack's Top 20 news and views of 2009.
This list is based on Google Analytics reports of NyackNewsAndViews site traffic., NyackNewsAndViews averages about 40,000 pageviews with about half of all adults 25+ reading NyackNewsAndViews on a regular basis (hover for details).
Although these are the "top stories" by popular demand, we all know the best performer isn't always the winner on American Idol. Feel free to click the comment link and add your own suggestions to the list. Or topics you think deserve more attention in 2010.
This is the first part of  a two part series. Read NyackNewsAndViews on Sun Jan 3 for part two.