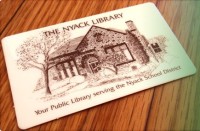 By Doug Foster
Nyack, Jan 11 — Did you know there was a vote for Library Trustees on Monday?  Five people ran for four open library trustee positions.
Usually there is no competition for Trustee seats, but this year a resident went through the petition process to get on the ballot.  The library is a strange hybrid, acting on the one hand like a normal not-for-profit, and the other as a public entity with elected officials.  The library is an association, establish by the state with its own tax base, in this case following the Nyack School District boundaries.  This guarantees its revenues.  Like a normal not-for-profit, the Board appoints its Trustees, although they do get on a ballot to be voted on by residents. And residents can get on the ballot through the petition process just as any other elected official.
The five people running are as follows:
Deirdre R. O'Hagan — Resident of South Nyack.  She carried a petition and got more than 25 signatures which got her name on the ballot.  Deirdre is currently the Nyack high school librarian.
Mary Callan — Grandview resident.  She quit the board to become staff to run the fund raising campaign, raising over $400,000. She was then appointed back on the board, and now running to fill that.
Kevin Doyle — South Nyack resident, chairing the Personnel committee.  He is an attorney, mostly representing poor people charged with serious crimes.
E. Mike Growney, Jr. — Upper Nyack resident.  He is an attorney and investment banker.  Serves on the Board's Finance, Long Range Planning and fund raising, Personnel, and chairs the audit committee.
Debra Karten — Village of Nyack Mayor's assistant — She used to be a member of the Nyack Planning Board.  She serves on the Library's Finance and Audit committees and chair of the Fund Raising and Grants committee.
Roger Seiler, chair of the Board, is happy with all the incumbents because they have been hard workers and vital to getting the library business done.
Roger sees the lack of advertising and getting the word out as a major flaw.
"One of the things I like to see us do is get the word out to the public.  The Board has worked hard to get the best representation geographically and ethnically with the needed skill sets, but we haven't focused on public participation.   It is not easy to get the public to weigh all those factors, but it will have to get done."
Roger says he plans to write a paper outlining the issues to help educate the public of the Libarary's needs.