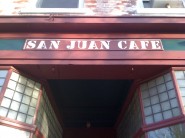 Nyack, Jan 8 — The Sean Juan Cafe at 21 North Broadway has closed and its proprietor has left town without leaving a forwarding address or contact information.
Sean Kirkpatrick disappeared in December while his staff continued to operate the restaurant which specialized in Puerto Rican and Cuban dishes. Patrick and former owner Juan Nivar have been named in an eviction noticed filed by Landlord Riverscape North, LLC for $30,000 in unpaid rent.
Nivar's name is on the lease as a guarantor for the rent. He is paying $10,000 to the landlord to settle his part of the debt.
The former San Juan Cafe was renamed "Sean Juan Cafe" when former Runcible Spoon manager Sean Kirkpatrick bought the business.
Neither Patrick nor his attorney showed up at a January 7 hearing on the eviction. The case has been adjourned until January 21.
Source: Journal News, 1/8/2009