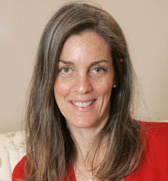 By Tina Traster
We are a child-safety obsessed nation. Water wings for the pool. Helmets for skiing and cycling. Mandated ages for booster seats in cars. Anti-Bullying programs. We don't let our kids wander alone or stray out of our sight. A recent sexual molestation in a movie bathroom at the Palisades Mall in Rockland County, where I live, has triggered a conversation about whether it is okay to let children go to the bathroom by themselves.
Then why is no one paying attention to foods disseminated at birthday parties or on special occasions in classrooms at public elementary schools?
My seven-year-old daughter, who attends Nyack's public schools,  came home on Halloween with a "goody" bag containing a 40-gram rainbow lollipop made in China, Double Bubble jaw breakers, unlabeled peanut butter chocolate candies, artificially flavored BlowPops and Sweet Tarts made with processed sugar and artificial colors.
In what common-sense world is it safe to feed young children these so-called "treats?"
Food safety (maybe with the exception of peanut allergies) has not garnered the same attention as scrapes, concussions or molestations. Call me crazy but I think it should given dire statistics on child obesity, diabetes and other food-related illnesses and chronic conditions.
My daughter knows there is nothing in a goody bag like the one she brought home that is worth eating. For better or worse we've trained her to eat beautifully and she's drinking the (metaphorical) high fructose corn syrup-FREE "Kool-Aid." I think she's proud of our lifestyle choices and I'm proud of her for thinking about where food comes from.
Unfortunately, she witnesses bad practices at her elementary school constantly.
Every time one of her 20 classmates has a birthday, a parent brings in Dunkin' Donuts. I remember an autumn "feast" day in her kindergarten class. Teachers piled children's plates with pumpkin pie, ice cream, whipped cream, cookies and potato chips – all in one sitting. That's not a feast – it's an orgy. Her first grade class went on a maple sugaring trip. I was there. After the children learned to extract sap from a tree, teachers fed them, what else? Dunkin' Donuts. I brought an apple for my daughter.
After the Halloween goody bag came home I contacted the school principal and urged her to set a healthy food policy. On the phone, she was generous with her time and said she agreed the contents of the goody bag were unacceptable. Said she would put a stop to such practices.
The day before Christmas break, my daughter arrived with another "goody" bag filled with junk. The soft efforts the principal had undertaken to prohibit teachers and students from disseminating crap were ineffective.
During the six week span from Halloween through Christmas, I'd spoken to the principal several times about crafting a healthy food policy. The school even has a Health and Wellness Committee but after meeting with it, it became clear nobody has the appetite to tackle this issue.
A big part of the problem is the teachers' lack of knowledge about food, food labeling, and the consequences, both physically and educationally, of exposing children to crap. My husband, who knows a lot about food, offered to conduct a free seminar for educators at the school. He had no takers.
As a show of good will the principal sent home a letter in children's backpacks in late fall urging parents to send healthy snacks. Nobody pays attention to "suggestions." What our school needs is a clear, unequivocal policy.
Members from the Health and Wellness Committee explained many parents think it is okay for their kids to eat Dunkin' Donuts and BlowPops at school and for parents to hand out these snacks indiscriminantly.
Educators are afraid to challenge popular opinion even though there is more than ample research to support how important it is to get children on the right track at an early age. When it comes to food safety, it is easier to deflect responsibility and leave it up to parents.
School administrators who deny children a safe, healthy food culture during their elementary school years are guilty of either ignorance or neglect. I know our principal understands the issue. Apparently she has no appetite for a food fight.
Tina Traster writes the New York Post's '€œBurb Appeal'€ column and the '€œThe Great Divide'€ at HuffingtonPost.com.