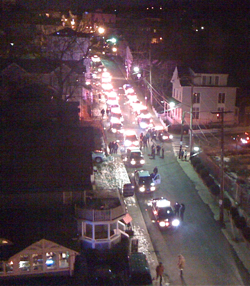 Nyack, Jan 30 — A Friday late night fight in the Riveria Steakhouse at the foot of Main Street resulted in two arrests and an officer being sent to the hospital with shards of glass in his eye.
The melee resulted from a customer stealing several liquor bottles from behind the bar and then throwing one of the bottles through the front window of the restaurant. Eyewitnesses counted at least 22 police cars on the scene. According to the Journal News, officers from Clarkstown, Piermont, South Nyack-Grandview, Spring Valley, the Rockland Sheriff's Department, New York State Police and New York state Park Police responded to the incident.
The bar fight, which spilled into the parking lot, occurred about 2:30a Saturday morning.
Late night noise at the Riveria Steakhouse has been the subject of frequent complaints from nearby residents since the restaurant opened in 2009.
Source: Journal News, 2/1/2010