Before the refrigerator was invented, winter time was ice harvesting season in Rockland County. The Knickerbocker Ice Festival returns to Rockland Lake on Jan 23-24 to celebrate that history and show off some of the best craft work of professional international ice sculptors.
Some of the best ice carvers in the New York/New Jersey/Connecticut area will compete to create four ice sculptures.  The ice gallery returns with historic photos of Rockland Lake's past.  A bonfire on Saturday 1/23 at 4:30p will try to set a record for the most people dancing around a bonfire.
Visit the remains of the 19th century Knickerbocker Ice Company and learn how ice blocks were harvested and saved for the summer months. The Artists in the Parks will paint and local historians will lecture. Pick up a painting or photograph and hear of the old days.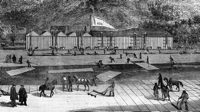 Ice harvesting began on Rockland Lake in 1835 letting New Yorkers and Rockland residents enjoy ice cream in July for the first time. The Knickerbocker Ice Company was the king of the industry that transformed the food industry letting butchers keep fresh meat and farmers ship vegetables throughout the region.
The Knickerbocker Ice Festival was started out of the desire to bring the community together. Hope to see you there!
See also: