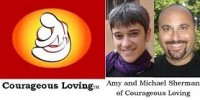 by Carolynn Ananian
Courageous Loving Center in Nyack invites guests to a holistic wellness open house on Sunday, January 24th, to unwind and rejuvenate the body and mind.
Practitioners will offer massage sessions, Reiki, Pranic healing, nutritional products, prepared food, artwork, spiritual gifts and Tarot readings.  There will also be prizes raffled off throughout the day with the proceeds going to the Red Cross to help earthquake victims in Haiti.
The organizers, Michael and Amy Sherman, are a husband and wife team who together operate the Courageous Loving Center.  They believe the open house will help bring the community together and offer an open forum for local businesses to market themselves and meet new clients.
To generate buzz for the event, Michael will be posting radio podcasts of interviews with the event's participants on his blog, located at www.courageouslovingnation.com.
'€œIt's been a blast interviewing the practitioners about their crafts,'€ Michael says. '€œThey're all very passionate about what they do, and it comes out in conversation with them.'€
Admission to the event is free.  Guests who have questions about the event or who wish to schedule an appointment with the practitioners can call (845) 653-1097.  Parking is free in Nyack on Sunday.  Courageous Wellness Day runs from 11:00am to 5:00pm on Sunday, January 24th at the Courageous Loving Center, 10 South Broadway, Nyack, New York (upstairs from Maria Luisa Boutique).
For more information, go to Courageous Loving's website at www.courageousloving.com and click on '€œEvents.'€