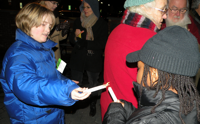 By Richard Kavesh
More than 40 of us gathered Friday night in downtown Nyack's Veterans' Park to participate in a prayer vigil for Haiti. A bit more than 12 hours later, many of the same people '€" plus others '€" raised nearly $800 dollars in a '€œWalk for Haiti'€ that took us from the steps of Village Hall to Nyack Beach State Park and back.
The prayer vigil took place on the very birthday of Martin Luther King, who dedicated his all-too-brief life to helping those in need and to bringing together people of all races, religions, and creeds. The beauty of a crisp, clear Friday night, a sunny, warm and cloudless Saturday morning, and '€" more than anything '€" the compassion of the people who participated  reminded all of us how fortunate we are to be living and living in Nyack and how urgently assistance is needed by our sisters and brothers and neighbors in Haiti.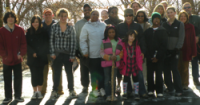 At the suggestion of one of our walkers, the funds  we raised will be donated to Partners in Health, a Boston-based organization specializing in bringing modern medical care to poor countries. PIH is already on the ground working hard to deliver aid in Haiti; its offices there were unscathed by the earthquake.
Our hearts go out to everyone who lost loved ones in this devastating and terrible tragedy. As Dr. King said: "Whatever affects one directly, affects all indirectly." And as John Donne wrote about 400 years ago: "Send not to know for whom the bell tolls, it tolls for thee."