by Eric Neblung, Ph.D.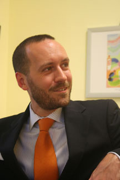 The earthquake in Haiti has hit the Nyack community hard. Approximately 10% of Nyackers are of Haitian descent, and most of us know someone who has been personally affected by the tragedy. As a psychologist in Nyack, many of my friends and neighbors have asked for suggestions on how to help their Haitian friends and coworkers who have lost loved ones. They are not sure what to say or whether to say anything at all. There is no '€œright'€ way to go about it, but most psychologists agree on three important ways to support a person who is grieving:
Listen. This may sound easy, but many find this very hard to do. This is especially true when what is being talked about stirs strong emotions. Most of us have a hard time seeing a friend cry or get angry. Instead of listening, we react by saying things like, '€œdon't cry'€ or '€œdon't feel sad.'€ Fight the impulse to tell someone how to feel and focus on understanding his or her experience. This type of listening includes accepting the person's feelings, whether you share them or not.
Offer practical help. Many people find it difficult to ask for help. Haitians, as a proud and resilient people, are no exception to this rule. The offer to help must be made in a way that communicates the authenticity with which it is given and the respect with which it is intended. It can take many forms from running an errand to watching children for an afternoon. My personal favorite is simply to ask, '€œWhat can I do for you?'€ The amount of help you offer depends on what you can do and the commitments you can keep
Stick around. Haiti is in the news now, but the impact of what has happened will last much longer. The grieving process is just that, a process and it will take time. It is important to be a presence the person can count on. Their life has changed dramatically and their sense of predictability and stability has been challenged. After the initial offer of help, check back every so often. Ask, '€œHow are you doing?'€ in two weeks, a month and so on. It is what we do best as a community'€¦ being there for each other.
I also recommend that my fellow Nyackers keep an eye out in case grieving becomes something more. Following the death of a loved one, it is common to feel sadness, confusion and a sense of being disconnected with others. In grief, these feelings fade with time. If they don't, or if they worsen, it may be a sign of depression. If you see a friend whose grief is not fading or is getting worse, they may benefit from professional help. Encourage them to contact the New York State Psychological Association for assistance.
Kembe la zanmi mwen! (Stay strong my friends.)
Eric Neblung, is a psychologist in Nyack. He specializes in child, adolescent and adult psychotherapy. His Website is www.eric-neblung-phd.com.