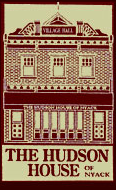 By Tracie McLee
Local area musicians playing a variety of music genres — from hip hop/funk to rock and rhythm and blues — are coming to the Hudson House this Friday to kick off The BIG CHILL Concert Series.
GIC and Funk Face Band, an all boy quartet that's a cross between "Rage Against the Machine and "The Roots," features Nyack-born lead lyricist and band co-founder Michael Munroe. Another featured artist on Friday evening is Shantel '€œDenny'€ Jackson, a rhythm and blues singer/songwriter from Spring Valley. Shantel is currently working on an album due for release this summer and performs regularly at local open mics and other events in the area.
The Hudson House is located at 134 Main Street in Nyack. Doors open at 9p and the music starts at 10p.
Tracie McLee is founder of Madame Sassy Productions which is producing The BIG CHILL Concert Series.