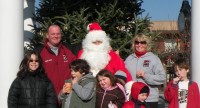 by Richard Kavesh
No reason to pout, no reason to cry, just the opposite in fact — Veterans' Park in Nyack has its first Christmas tree in five years and none other than Santa Claus himself came to town to celebrate the occasion.
Under glorious blue skies, clear, crisp, and snappy weather, and with yesterday's dusting of snow already melting away, Santa dispensed joy (and gifts) to the dozens who came to help the Chamber of Commerce trim the tree.
Santa was so happy and impatient to be back in Nyack that he apparently fell off his sleigh or tired out his reindeer, but he managed to hitch a ride to Veterans' Park in a Nyack fire truck.
Photo Credit: Richard Kavesh