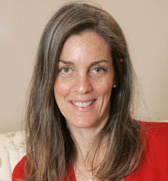 By Tina Traster
As de-sensitized as we are, murder in a small town is unnerving. When we hear about it, our gut question is: Was the murder random or did the victim know her killer?
We need to know because random crime makes us feel vulnerable. If the killer and the victim knew each other, we can absorb the shock with greater ease. The murder can be explained.
This week, a vivacious 32-year-old gym teacher was viciously stabbed and beaten to death in her ground-floor condominium in Valley Cottage. Her next door neighbor was charged with murder.
Valley Cottage is a sleepy suburban community 25 miles north of Manhattan that nobody has ever heard of. Ironically it's part of the Town of Clarkstown, which Money Magazine just voted the seventh safest community in America.
I left Manhattan and bought a 19th-century farmhouse here four years ago. Being a city ex-pat, I lock my doors and look over my shoulder but I like that nobody has ever heard of Valley Cottage and that nothing much ever happens around here.
Jami Erlich's slaying reminds me that bad things happen everywhere.
As in other crimes where the victim knew her killer, one wonders whether it could have been prevented. Last July Erlich moved into a bottom-floor garden apartment condo complex. She was a stunning blonde and a beloved gym teacher. Her friends and family knew her neighbor Eric Lau, who has been charged with second degree homicide, had been harassing her for some time. In their quotes to the news media, they said he stalked her, called her constantly for dates, showed up outside her apartment when she came home from work. The newspaper said Jami called him "the creepy neighbor."
Our local television news station has been quoting an anonymous source from the town's courthouse who says Jami came seeking information about getting an order of protection from Lau but did not complete the process.
All week I've been wondering why.
The hypothetical scenario: Jami walked into town court and spoke to a clerk. The clerk told her she had to go downstairs to the police department and file a complaint. She never did that. Why? Perhaps she was afraid she couldn't make a compelling case to police against her neighbor. Perhaps someone told her she could only get an order of protection if she was able to prove he was threatening her.
We'll never know.
If Jami had moved forward to file the complaint she may or may not have succeeded. And an order of protection may not have stopped an obsessed man from killing her. But here's an interesting twist. Eric Lau had five previous arrests, including a felony robbery conviction for which he served six months in the Rockland County jail. Jami likely didn't know this. Nevertheless, Lau's rap sheet would not have factored into her request for an order of protection.
This Valley Cottage murder raises the timeless chicken-and-egg debate as to whether the system fails women who are at the mercy of a crazy stalker. I know what that's like. Years ago when I lived in the city, I was harassed by a wounded ex-lover. He would call 15 to 20 times a day, trying everything from humor to abuse. In the fortress of my Upper West Side apartment, I didn't feel vulnerable. But I did when I went out of my apartment. I called the police but they were indifferent. Calling someone a lot apparently is not a crime.
It's easy to say you never really know who you're dating or who lives next door to you but in truth most women sense when "courtship" or reasonable social behavior turns sociopathic. What can be done to shield oneself from a deranged person is a trickier matter.
Jami's crime was not random. But there is a sense of randomness to who any of us will encounter, whether at work, on a train or living next door.
Tina Traster writes the New York Post's "Burb Appeal" column and the "The Great Divide" at HuffingtonPost.com.
See also: Journal News, 12/9/09