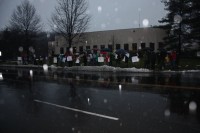 by Cliff Weathers
Nanuet, Dec 13 — On Sunday afternoon, 47 Rockland and Orange County residents braved the pouring, freezing rain and stood across from State Senator Thomas P. Morahan's office in Nanuet to protest his vote against gay marriage.
There were gay families, there were straight families, and there were both the young and the old. There were seasoned politicians and there were those who never attended a political event before. Many of us were strangers, and those of us that know each other often vehemently disagree on many topics. Despite this, we stood in solidarity and delivered a strong statement to Senator Morahan and the entire State Senate:
We will accept nothing short of marriage equality.

Senator Morahan voted against civil rights for same sex couples and we find this vote to be unacceptable. Further, we want Senator Morahan to at least explain his vote, rather than giving us that tired political line that he searched his soul before coming to his decision.
Personally, I feel the vigil was a success and it will kept this subject in the spotlight until the Senate votes the correct way. And Senator Morahan will eventually have to really deal with Marriage Equality, rather than treating it in the dismissive manner as he did last summer where he told the Journal News:
'€œI understand both sides,'€ he said. '€œI prefer civil union, as opposed to traditional marriage.'€
That statement didn't show me nor anyone else that Senator Morahan did some soul searching on this issue. All it says to me is that he made up is mind and we are expected to deal with it. There's a lot of reasoning I would like to hear: I would like Senator Morahan to address '€œseparate, but equal'€ in terms of civil unions instead of marriage. Instead, Morahan offered us this for an explanation:
'€œMaybe I'm a traditionalist,'€ he said. '€œI know my community is divided. If you can accommodate both sides, why not do that?'€
Nobody was accommodated. Morhan is not sponsoring a bill for civil unions, nor do I think he intends on doing so. Morahan is not tackling the issues of spousal rights and inheritence rights for same-sex partners. So, in the end, there was no truth to Morahan's statement. He lied!
In the past Senator Morahan has attended many events like Gay Pride Rockland and has claimed he is for gay rights. The Senator has said that LGBTs should have the same access to housing, jobs, benefits like health care and insurance, and equal protection of the law. But now, by not backing Marriage Equality and by not speaking out for his gay constituents to his colleagues, he's exposed his words as nothing more than a politician's empty promise to win votes from the gay community.
If Morahan really wanted to accommodate committed same-sex couples, he would have stood up in front of the Senate as did some dozen other Senators on December 2 and he would have explained his rationale for civil unions instead of marriage. Instead, he listened to his party leaders, shrunk down in his seat and kept mum until it was his time to vote: '€œNo,'€ which he did emphatically.
It's time for Tom Morahan to come down from his ivory tower and explain to his fiefdom the reasoning behind his unfortunate vote.
This diary is cross posted at the Rockland Progressive Dems Web site.
Also, see the article on the vigil the Journal News.