by Richard Kavesh
With the season's first dusting of snow covering the ground and temperatures here in Nyack not expected to rise above 39 degrees today, here are a few things you can do to warm up your Sunday.
From 1'€"3p today there's a reception at the Valley Cottage library marking the opening of a fabulous photographic exhibit by Nyack photographer and restaurateur Matt Hudson. Many of Matt's magnificent photographs were inspired by the Hudson River. The images captured at dawn and dusk over the river are particularly beautiful.
Closer to home (and what a home!), the owner of Pretty Penny on North Broadway, W. Graham Arader III, is opening his home at 235 North Broadway today from 1-6p to host a fundraiser to benefit Helen Hayes Hospital in West Haverstraw. Tickets cost $110 or two for $200.The Nyack Village Board recently voted unanimously that October 10th would henceforth be known as '€œHelen Hayes Day'€ in the village. October 10th is the birthday of the woman who earned the title of '€œFirst Lady of American Theater,'€ a woman who, as Mayor Shields has said, was among a few people who marched to integrate the Nyack YMCA when that cause was far from popular.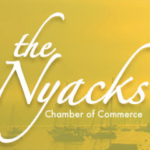 If you can't make it to Pretty Penny, you can always benefit the hospital just by shopping right here in Nyack. More than 30 stores and restaurants in Nyack are offering discounts to shoppers today, some of whom will donate a portion of their sales to the cause as part of the "First Lady of Nyack Celebration."
Hope to see you at one or both events.
Sources: Journal News, Nyack Chamber of Commerce
Photo Credit: Sothebys Real Estate