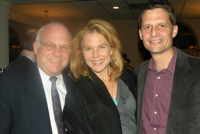 by Richard Kavesh
The word cordially comes from the Latin word "cor," which means "heart" in English. So you are cordially, heartily, and sincerely invited to come to the Doug Foster – Jen White -Richard Kavesh thank you party on Sunday, 12/13. The party is open to the public. Light snacks and refreshments will be served as long as they last, so feel free to add to the holiday spirit by bringing a along a culinary contribution of your own.
Join us at the Nyack Senior Center, 90 Depew Avenue on Sun 12/13 from 3-5p. RSVP at 845-353-1935.
As Marianne Olive said in the invitation to her party for the following day, this party is "just a small thank you to Nyack for being the greatest community." We hope you can squeeze us in between all the other political and holiday events scheduled for Sunday. See you there!
Richard Kavesh is the mayor-elect of Nyack. Doug Foster and Jen White will be joining the Village Board on January 1.