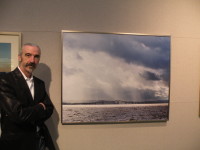 by Richard Kavesh
Not only does Matt Hudson run one of Nyack's longest-standing and most creative restaurants (in the former home of Nyack Village Hall, no less — and with a wonderful mural of the Hudson River on the wall), he's also one of Rockland County's premier photographers, especially of his beloved Hudson River.
A collection of Matt's works, superbly framed by another Nyack institution, Hal Parker, who recently reopened his frame shop at the corner of South Franklin and Depew, is now on display at the Valley Cottage Library, but will only be there until December 29th, so make sure you get there real soon. I attended the opening on December 2nd and was mightily impressed — hope you will be, too.
Hanukah's over, but Christmas and New Year's are still to come, so happy holidays to all, and please attend the inauguration of Doug Foster, Steve Knowlton, Jen White, and myself at 1:30 P.M. on December 31st at Village Hall. May be first time in Nyack history that four board members in new positions were ever sworn in on the same day. See you there.
Merry Christmas, a Bountirful Kwanzaa and a Happy New Year! May peace prevail on earth, Richard.