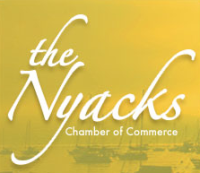 There will be singing, celebrating and saving this holiday season in Nyack. Whether you're catching up with friends at a local restaurant, shopping for gifts or looking for entertainment, Nyack is a holiday destination.
It will take a village to trim the tree on Sun 12/6 at 12:30p at Veteran's Memorial Park next to Riverspace. Hot chocolate for kids, ornaments from Lydecker Real Estate, holiday music for all!
Carols fill the air on Dec 10, 13, 17 and 19 when Nyack High School's Advance Chorus sings in the season. The Lower Hudson Valley Youth Chorus performs on Dec 18 at the Nyack High School to benefit the Rockland Children's Psychiatric Center. Opera fans will enjoy a concert from the Manning School of Music on December 21. Finally, The Bossy Frog Band performs to benefit the Rockland Parent-Child Center on December 30.
On December 6, there's a Pretty Penny Social to benefit the Helen Hayes Hospital Foundation at Helen Hayes' former home, open to all, for an elegant afternoon of entertainment, hors d'oeuvres & dessert.
The Baggallini Trunk Show rolls into Nyack at the Maria Luisa Boutique on Dec 4. $1 of every Baggallini bag sold will be donated to the Nyack Homeless Project. Maria Luisa Boutique is also drop'€off location for coat donations.
What could be better than good shopping AND good cheer benefiting a good community cause? On 12/5 there's a wine and cheese holiday shopping event at the American Red Cross with 20% of the proceeds donated to Rockland's Red Cross.
Park for free for all holiday events in the lot behind Riverspace on Artopee and Cedar and in the Spear Street lot through January 3.
All of these special holiday events are sponsored by members of Nyack's Chamber of Commerce.
Helen Hayes: First Lady of Nyack Day
Benefit for The Helen Hayes Hospital Foundation – Pretty Penny Social
December 6
1:00 '€" 6:00pm
235 North Broadway, Nyack.

Mr. W. Graham Arader III, owner of Helen Hayes' former Nyack residence, Pretty Penny, will open his home for this event. Visit this historic home; enjoy an elegant afternoon of entertainment, hors d'oeuvres & dessert and support the physical rehabilitation hospital and celebrate our famed First Lady.

Throughout the weekend (December 4 '€" 6) many merchants throughout the Village are offering special holiday promotions to benefit the foundation.
Maria Luisa Boutique Holiday Shopping Events to Benefit Nyack Homeless Project and Soup Angels
December 3-4
Maria Luisa Boutique, Nyack

A Baggallini Trunk Show on Dec 4, with a preview for Rewards Customers and Facebook Fans on Dec. 3. $1 of every Baggallini bag sold will be donated to the Nyack Homeless Project. Maria Luisa Boutique also is a coat drop'€off for the homeless project. Any customer who brings a donation for NHP will receive a GIFT during the Dec 3 '€ 4 event.
Caroling in the Village
Thursdays Dec 10 & 17, 5:30-7pm
Sunday Dec 13, Sat Dec 19 1:30-3 pm

Maria Luisa is sponsoring the Nyack High School Advance Chorus as they carol through the village in support of the Soup Angels. Residents and businesses are invited to make donations.

Tru'€Food will treat carolers to hot apple cider & chestnuts will be roasting during caroling times at Veterans Park (by the clock) courtesy by '€œHotdog'€ Donna.
The Nyack store opening celebration for Winter Wednesday Flowers is December 10, 7p-9p
152 Main Street, Nyack 10960
Food, Music, and Flowers, Flowers, Flowers!
845-405-1902
American Red Cross Holiday Shopping Event
143 North Broadway, Nyack
845-358-0833
December 11th (5p-10p), 12th (10a'€"5p)

Meryl Foster Interior Design and Resources invites you to a holiday shopping event with wine and cheese. 20% of the proceeds will be donated to the Red Cross in Rockland County.
The Lower Hudson Valley Youth Chorus
December 18, 7:30p
Nyack High School

The Lower Hudson Valley Youth Chorus, under the direction of Jared Rosenblum, is performing a benefit concert for the Rockland Children's Psychiatric Center. This concert is sponsored by the Nyack Middle School PTA.

Jared and the chorus members ask that in lieu of an admission fee, the audience bring a gift for the kids. Contact Helen Quinn at Quinnyvan@optonline.net or (845) 323-2835 for more information.

Manning School of Music Holiday Gala Concert
December 21, 8p
Reality Bites Cafe
100 Main St., Nyack

Four opera singers will perform the Quartet from Rigoletto, duet from Lakme, Va Pensiero Chorus from Nabucco, Ave Maria by Bach-Gounod. A student recital will take place at 6:00 and the faculty performance is at 7:00. There is a suggested donation of $10 per person. Call for tickets and reservations – (845) 353-4287.
The Bossy Frog Band
Live In Concert to benefit the Rockland Parent-Child Center
December 30th, 10:30a & 12:30p
The Nyack Center, 58 Depew Avenue, Nyack
Tickets $10 / For tickets and info contact Stephanie Baumes 845-353-6162 sbaumes@yahoo.com