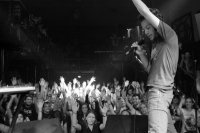 by Robert Ryan
Glint will be performing at the Turning Point in Piermont on Friday 12/18 at 9p providing their local fan base with a special unplugged set. Expect elegant set design combined with lustrous hues and an intimate atmosphere with old and new songs alike along with a series of musical guests. Tickets are nearly sold out already so be sure to order yours toot sweet!
A young outfit (early-mid twenties) having incredible international success, Glint is fronted by a 22 year old songwriter and former Broadway star, Jase Blankfort. Teamed with Brazil's Mateus Tebaldi, Glint quickly became an irresistible live act in the electronic art rock scene by Billboard Magazine.
Shortly after the release of Sound in Silence, Jase and Mateus met Alon Leventon (Tel Aviv), filling the role of keyboards and synthesizers, and bassist Dave Johnsen (Brooklyn). The group's first show took place in Central Park in spring of 2008, followed by an immediate rise to New York's prominent stages, and more recently, international demand. Operating independently through Rely Records, the label co-founded by Glint, the band first found the ears of the music media through Sound in Silence in 2008 produced by Nic Hard (Bravery) alongside Blankfort & Tebaldi. As Glint evolved, Blankfort and Leventon became musical conspirators and an innovative production duo. In 2009, now a complete organism, Glint is breaking new ground in the studio and stage with the release of GLINT – EP, the first effort recorded as the four piece, mixed by Michael Brauer (Coldplay, Doves, My Morning Jacket). Through the success of their recent summer European tour (30 shows, 10 countries, 40 days) Glint has now branched out of the northeast, raising their profile internationally in Germany, the Netherlands, Scotland, England, Ireland, Czech Republic, and Austria.
Glint toured all over Europe this past summer with The Airborne Toxic Event and The Crystal Antlers, while also sharing main festival stages with acts like MGMT, Deerhunter and The Black Lips. In addition, they were recently chosen by Apple as an iTunes discovery download of the week, resulting in over 200,000 downloads of the track "Damaged Goods" from the new EP they did with Michael Brauer (Coldplay, Doves, My Morning Jacket).
Glint had the track "Freak" featured as NME download of the week, and landed a great sync in the new remake of Melrose Place.