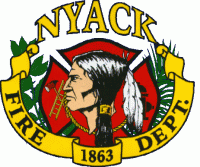 Few people are aware that there is a vote next week, but on Tuesday (12/8) from 6pm to 9pm the poll will be open at Central Fire Station at 19 Park Street. On the ballot will be Richard Sculley running for commissioner unopposed, and an amendment for setting up a capital improvement fund.
There are five commissioners: Keith Taylor (chair), Homer Wanamaker (vice chair), Robert van Cura, Ted Ryder and Richard Mathsen. The commissioner seats are five year, staggered terms, so each year one commissioner is up for election.
Keith Taylor says the capital improvement fund will help maintenance planning, by setting money aside for major improvements. There is work to be done on the firehouse up on Catherine Street.
The Fire Department is an all-volunteer program, which represents a huge savings in our tax bills compared to a professional department. Mr. Taylor has taken a business-like approach to balance the need to be well equipped with minimizing the tax burden. The Nyacks are lucky to have a well staffed core of volunteers, 175 strong, that can respond to an emergency any time of day or night. Many other communities find themselves unable to get trucks out during the day, because volunteers don't work close by, and need to call on neighboring professional departments.
Despite the fact that the general electorate is unaware of the vote, which is unopposed this year, the Board of Commissions is filled with dedicated and experienced individuals.