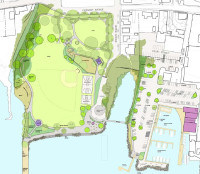 By Jen White
On December 10th, the Nyack Village Board will take an enormous step toward finally improving the Villages waterfront. The Village Board, in the last meeting of both this year and this board makeup, will vote on whether to endorse the waterfront master plan, a plan that has taken almost three years to develop. This plan is the end result of four large public meetings, a number of small public meetings and is the culmination of many redraws based on public input.
The consensus plan features a much larger green space area for play, moving the parking away from the Memorial Park side of the park and over to the Marina side of the park, thus removing a large chunk of concrete that continuously leaks petro-chemicals into the Hudson. The removal of pavement is a move supported by all local and statewide environmental agencies and organizations.
The plan includes a new, permeable basketball court plus half court on the north side of Memorial Park and a shift in the use of the Marina that would allow villagers the ability to rent kayak's and canoes but let the current fishing fleet maintain it's slips. The butterfly garden is now partnered by a childrens garden that is being funded by the New York State Department of Parks and Recreation and will be used for the summer program curriculum as well as by the Nyack Center. There will be movable tables and chairs, an expanded and cleaned up beach are and more plants and foliage.
The park will no longer be home to the public tennis courts, a decision based on both the expense of their upkeep and the current plan to redo and add additional public courts to the High School courts. The Nyack Park Conservancy has offered to help in the fund raising for those courts. The Little League will remain in Memorial Park for as long as they chose to. They have agreed to work with the Village to determine ways that the baseball field might be equipped with movable backstops and dugouts and a non chalk basepath so that at the end of the relatively short Little League season, the fields can be used for soccer, lacrosse and any other seasonal sports, as well as picnicking and general play.
The plan, in all, is a greener, more attractive version of our waterfront. It improves recreation for all, and adds access to the water for the entire Nyack community. It is healthier for the Hudson and and healthier for our kids.
For more information, check out the Nature Conservancy Website.
Jen White is chair of the Parks Conservancy and a Village Trustee elect