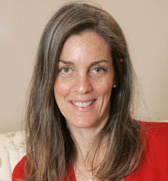 By Tina Traster
Listen up, realtors '€" I've got a tip for you. Forget curb appeal or the new bathroom or the hot tub on the deck.
Think food instead.
Plug the greenhouse or garden. Suggest carving out a vegetable patch where there is lawn. Mention the town's weekly farmers' market. When showing a house, drop names of nearby shops and restaurants selling healthy, organic, vegetarian, vegan, local, sustainable, gluten-free, pesticide-free, antibiotic-free whole foods.
Talk it up because food is having its '€œit'€ moment. It's more relevant than granite counters and marble baths.
If I were looking to buy a house today, I'd take careful inventory of food offerings before putting down roots. Checking out local food sources is as vital as school rankings or making sure neighbors don't keep vicious pit bulls.
We are entering into an age of enlightenment. Thanks to my heroes '€" food writers/ethicists Alice Waters, Michael Pollan, Eric Schlosser and others '€" Americans are conversing about what constitutes '€œfood'€ as they never have before. Schlosser's '€œFast Food Nation: The Dark Side of the All-American Meal,'€ which was published in 2001, has been compared to Upton Sinclair's '€œThe Jungle.'€ And here we are today: talking, thinking, debating about how we raise, buy and consume food.
In '€œEating Animals,'€ of-the-moment literary darling Jonathan Safran Foer exposes the atrocities of factory farming. His book debuts on the heels of the terrifying documentary '€œFood, Inc.,'€ a true-life horror flick that shows how farm animals are raised and killed in inhumane and unhealthy ways.
These works, along with food crises like tainted spinach, salmonella in peanut butter and E. coli-contaminated meat, have many making the connection between where we live and how we eat. If you're like my husband and me, you can plant a pesticide-free victory garden. Ours is not a show of patriotism; it is an effort to control how our food is grown.
For the past two years, we've grown enough garlic and onions to sustain ourselves year-round. This winter will be our first experiment with growing lettuce and herbs in our greenhouse, which we assembled from a kit.
Daytime temps inside it reach over 100 degrees in the winter. To combat night chill, my husband, known around these parts as Caractacus Potts (the inventor in '€œChitty Chitty Bang Bang'€), has jury-rigged some sort of heating system using water and tubes and gravity.
How a community thinks about food says a lot about its inhabitants. Food co-ops, community gardens, farmers markets and CSAs (Community Supported Agriculture) are signs of towns that get it.
When I bought my house four years ago, I took comfort in the lone health-food store on the corner of Broadway and Main in Nyack, a Hudson River town. For complete food shopping, I relied on a combination of trips to the farmers market from May through November, and Whole Foods in White Plains, a 15-minute drive.
An unexpected treat I discovered at Nyack's farmers market is Shepherd Valley Creamery, which is a sheep-rearing operation in New Jersey that makes cheese, yogurt and butter. You think you know what butter should taste like until you've had butter that has not traveled thousands of miles to the supermarket shelf.
I'm sad when the farmers pull down their tents after Thanksgiving but slowly, surely, Nyack is becoming a cornucopia of good food. You can get vegan Caribbean-style food at Main Essentials or fresh-squeezed juice smoothies and hormone-free chicken at Amazon Juice Bar and Healthy Eatery or locally grown produce at True Food. The Mediterranean-style Art Café is meatless and organic.
All summer, I waited with anticipation for the opening of Old World Market, a smaller version of Whole Foods that replaced a Nissan dealership on Route 59.
Watching Nyack evolve into a food-conscious community tells me I chose well. And if I ever decide to pick up stakes, I will advertise a lovely farmhouse with a garden and greenhouse '€" surrounded by a bounty of good food.
Tina Traster writes the New York Post's "Burb Appeal" column and the "The Great Divide" at HuffingtonPost.com.