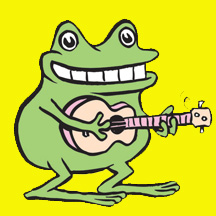 Looking for something to do with the kids during the winter break? Bring the kids to a benefit concert by THE BOSSY FROG BAND on Wednesday 12/30 at The Nyack Center.
There's a 10:30a and 12:30p to benefit the Rockland Parent Child Center with complementary milk 'n' cookies served after each performance.
For tickets and info contact Stephanie Baumes at (845) 353-6162 or email Sbaumes@yahoo.com.  To hear music from The Bossy Frog Band go to: www.Bossyfrog.com. The Nyack Center is at 58 Depew Ave and South Broadway in Nyack.