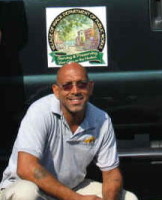 By Victor Overton
Nov 23, 2009 — This holiday week is a very busy week for us. Our crew won't be working Thursday and Friday, so we have to squeeze five days of work into three.
We will be sending out 2 garbage trucks for the next three days to make sure the village trash is not left at he curb side for the holiday. The leaf piles are taking up holiday parking in front of homes so we must get them up for the holiday visitors.
Wednesday we also have to pickup cardboard on Wednesday.
We also have a rain storm coming on Friday so we must get them up so there's no flooding.
We will be on every street by Wednesday picking them up. The street sweeper will be busy cleaning the leaves and street for the Holiday.
Monday we will have double rubbish pickup.
Enjoy your holidays!
Victor Overton is the Superintendent of Maintenance for the Village of Nyack