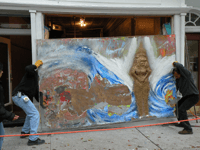 By Richard Kavesh
Nyack, October 30 — It's over and gone. Out with the old, in with the new.
After months of controversy, the 6′ x 10′ mural by Pearl River artist Carol McIlmurray that occupied the window at 13 North Broadway for months was removed at 4:50p today, hauled away by Pomona Glass & Mirror.
'€œIt's a tough day,'€ McIlmurray said.
As described by the Journal News, '€œthe controversial window mural featured a golden orb and a large, golden angel, made of paint and Spackle, riding a couple of ocean waves before McIlmurray started scraping off layers of paint a few days ago.'€
As a crowd gathered to watch the mural removed and a new, 240-pound transparent pane of glass installed, opinion on North Broadway was divided.
One observer who supported removing the mural complained that McIlmurray had left the sidewalks splattered with paint for months while another told me that the painting was bad for surrounding businesses.
However, one person who supported McIlmurray's right to display the mural compared its removal to Kristallnacht, anti-Jewish Nazi pogrom of November, 1938.
McIlmurray was ordered by Nyack Justice Court to remove the display by October 29th but was granted a 30-day extension, which she honored today.
McIlMurray's shop, which she planned to call '€œRomp,'€ was open just for a few hours on July 4th . McIlmurray previously tangled with Nyack's Building Department and merchants about the mural which violated fire codes because it blocked the window.There's no word yet as to who will occupy it now, but prospective new tenants were looking over the place at the very same time as Pomona Glass was preparing to remove the mural and install the new glass.
McIlmurray told the Journal News that she plans to concentrate on her website which is now offline after operating throughout the past several months.
One thing's for sure: there's never a dull day in Nyack but there's always an argument.
Sources: Journal News 10/30, NyackNewsAndViews posts, June-Sept 2009
Photo Credit: Richard Kavesh