Due to the rain predicted for this weekend, the bench building and LumberJack Grub will be only on Sunday. The art event will be held all weekend.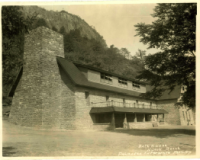 Trim the Trails at Nyack Beach State Park on Sunday 11/15 from 8a to 4p. There's also a concurrent Artists In The Park event, too.
Volunteers will team with instructors to build six rustic Knickerbocker Benches from fallen locust logs harvested along the 4.75 mile Nyack to Haverstraw trail. Adults and children volunteers will assist professional sawyers as they use the traditional tools of those who built the PIPC's historic facilities, as well as contemporary gear such as portable band saw mills and laser levels.
Knickerbocker benches are made from locally harvested hardwoods using traditional tools. The first Knickerbocker benches were created for the Knickerbocker Ice House site at Rockland Lake State Park.  Sturdy and beautiful, the benches will enhance public access to the Hudson River shoreline trail between Nyack and Haverstraw, NY.  All bench sites have been selected for their views or proximity to historical features.
Artists in the Parks will be exhibiting artwork for sale on Saturday 11/14 in the historic Powerhouse at Nyack Beach State Park. Several artists will be plein-air painting along the Nyack to Haverstraw Trail. The exhibit is free and open to the public.
Keep Rockland Beautiful and Artists in the Parks are raising park awareness with a fundraiser for the Palisades Parks Conservancy to support conservation, preservation, and education initiatives. Forty percent of the proceeds of the sold artwork will be donated to Palisades Interstate Parks Conservancy (PIPC). Artists in the Parks is an initiative of the Palisades Interstate Park Commission.
Much of the artwork to be displayed was inspired by the surrounding areas and park lands in the Palisades Region. One of the group's missions is to nurture a love, understanding, and respect for the natural world. Purchasing artwork from an AiP artist is an investment in an original work of art of potential historic value. Original drawings, pleine-air paintings, photographs, mixed media, collages and sculptures will be on display and for sale.
Two works of art will be raffled Saturday, November 14 to benefit the PIPC. A full sized giclee print of "Hooked on the Hook," an original oil painting by AiP president Lita Thorne will raffled off. This is an artist proof, 7.5'€ x 24'€.  Additionally, a limited edition Miniature Bronze Knickerbocker Bench designed Knickerbocker Bench creator Timothy Englert will be raffled along with a 5'€ x 7'€ artist proof giclee print from an original oil painting "Have a Sitdown" depicting one of the benches at the Knickerbocker Ice House ruins at Rockland Lake. Raffle tickets will be available for sale until 3p. The raffles are $3, 2 for $5.
At Your Service Caterers will serve a '€œlumberjack breakfast and lunch'€ all day with wholesome pancakes and stews.
The Power House represents an extraordinary opportunity to reinvent a forgotten treasure as a venue for community events and a monument to local history. The Dutch colonial style building once housed the power plant for the quarries along the Hook Mountain cliffs and was later converted to a bath house and community room with the formation of the park. It is currently in the early stages of being restored and is open to the public for special events like this one.
Power House Art Exhibit and '€œlumberjack'€ food
8a '€" 4p, Saturday, November 14.
3p Artwork Raffle ends.
Nyack Beach State Park, end of N. Broadway, Nyack, NY. Pancakes and stew by At Your Service Caterers; all tableware fully compostable.  $5.00 buys a plate of cakes or a bowl of stew, along with a drink.
Knickerbocker Bench Building
8a '€" 4p, Sunday, November 15.
Each sawyer team will be scheduled for two hours with the sawmill and our expert sawyers on the upper plateau at Nyack Beach State Park.  Two additional hours of site preparation somewhere along Nyack-Haverstraw trail.
Sources: On-Hudson.com, 11/10/2009,  Keep Rockland Beautiful,
See also: J. Howard Studio, 11/10/09, Journal News "Lumberjack Festival" 11/6/09