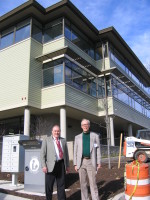 by Doug Foster
Nov 23, 2009 — Saturday marked the Nyack Library's open house to show off its 15,000 square foot addition, designed by Michael Esmay, doubling the size of the original Carnegie building.
Roger Seiler, Board President, and James Mahoney, the Library's director gave tours of the new building, along with many of the Board Trustees.  It is an impressive space, with the second floor dedicated for kids and activities, and the third floor for adults.  The first floor has a beautiful conference room.
The project is behind schedule and unfortunately residents will have to wait until January, probably, to be able to use the new space.  At that time work will be done in the older building and the entire project should be complete by mid 2010.
Behind the building will be 21 coveted off-street parking spaces.  The parking plan was a compromise that the Library's attorney derived where part of the required parking is on paper but not developed.  The spaces are "banked" and the Village can require the Library to develop them when needed.  This is the part that would go down to Piermont Ave, but there were concerns about its impact on the adjacent properties.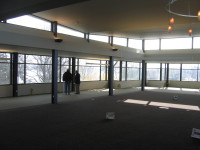 The project has "green" credentials with a geothermal heating/cooling plant.  With half the cost paid for by a State grant, the decision was a no-brainer.  The Library expects to save $30,000/year in heating and cooling costs.  The new HVAC system will handle the addition and a portion of the old building.  The site was too small to allow enough wells to take care of the entire building.