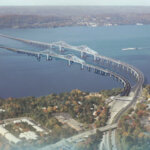 The new Tappan Zee Bridge will be coming to the Nyack on November 18.
Nyack High School (11/18) is one of five locations where the Tappan Zee Bridge/I-287 Corridor Project will hold community meetings along the 30 mile commuting corridor between Hillburn and Port Chester.  Each meeting will focus on a specific geographic region of the corridor.
Regional transportation officials are currently working on the Draft Environmental Impact Statement (DEIS) and are evaluating various transit and bridge options to be analyzed in the DEIS.
These meetings are a opportunity for the public to learn more about the project's transit route options through each area possible configurations for the proposed replacement Tappan Zee Bridge.
The Nyack High School meeting will discuss transit routes through Orangetown. Wed 11/18 6p-8:30p in the NHS cafeteria, 360 Christian Herald Road, Upper Nyack
Source: NYS Dept of Transportation
See also: Times-Herald Record, 11/9/09