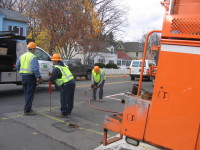 by Doug Foster
Nyack, Nov 20 — I called the Orange and Rockland hotline this morning because I smelled natural gas in the morning around my front lawn. Within five minutes a O&R van showed up and two men were mechanically "sniffing" for a gas leak.  It turned out it wasn't my property but a leak under the street.  I wasn't sure if I felt better or worse with that news.

After coming back from lunch, there were 10 O&R trucks lined up along the street, a couple dozen workers, all boring holes in the street, opening up manholes, mechanically sniffing up and down 3rd Ave. and Broadway.
Much of Nyack's infrastructure is old, very old.  Some of the cast iron pipes date back to the late 19th century when they were originally installed.  Every 12 feet there is a joint, which most likely has a leak.  So the O&R crew has to leap frog from one joint to the other.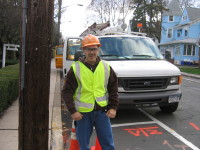 Sammy, a friendly worker, explained that since the network is so old and fragile, it is run at low pressure.  The newer systems have high pressures at 30 psi, which require a pressure reducing valve as it comes into a house.  But for this system no such hardware is required.  The low pressure makes it difficult, however, to track down leaks, since it kind of dissipates slowly and seeps all over the place.
O&R is slowly replacing the infrastructure. It will take a while.  In the meantime, do not hesitate to call the hotline at 800-533-5325 if you smell that characteristic sulfur smell (which by the way is added so that we can notice what is otherwise an odorless gas).  O&R will be very responsive.
Photo Credit: Roger Cohen, Doug Foster