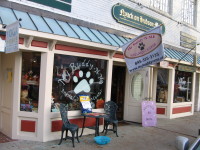 By Rosemary Serluca-Foster
Back in September, after having adopted our sweet dog Ginger, I lamented that our lovely village lacked a pet supplies store (which then of course prompted me to wish very hard for one).  Well it seems there really is something to the old adage '€˜be careful what you wish for' because one recently opened up. And lucky for our pets, it's wonderfully health-driven.
My Buddy-N-Me Wellness Center, located at 85 South Broadway, is a complete wellness and holistic emporium, run by the very affable and incredibly knowledgeable local Nyacker, Gail Rossi.
'€œIt's always been my dream to have my own pet supplies store in Nyack,'€ says Gail. '€œI believe my calling is to help animals live healthy and happy lives.'€
Prior to opening her store, she worked in marketing for twenty years. Gradually, she began to move into the field she is passionate about, first as a rep for Life's Abundance Pet Food Company, and then as a regional publisher for Metro Tails Magazine. But it may have been her precocious, chocolate lab Bailey (who's the special  '€œbuddy'€ in the store's name) that gave her the final push to make it all happen.
'€œHis overly curious and mischievous nature caused him to end up at the vet's over and over for all sorts of injuries and ailments. It was costing me a fortune, so I had to find other ways to help Bailey heal.'€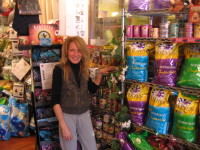 She immersed herself in studying alternative health care for pets, attended animal wellness  trade shows, and is currently getting her Master's Degree from the American Holistic School of Science for Animals.
She's emphatic that your pet's nutrition should be as well balanced, and healthy as what you would want for yourself.  '€œA holistic and natural approach to your pet's diet helps them to live longer and happier lives, and complements the marvelous work that vets do.'€ Bailey's visits to the vet are less frequent now that he has a healthier diet, and she can see an appreciable improvement in his skin and coat.
Repeat clients come from as far as Pennsylvania to seek Gail's' superb advice ('€œif I don't know the answer to your question, I make it my business to help you find it'€), and purchase  healthy fare that includes: all-natural, organic dog and cat foods, raw foods, vitamins, supplements, essential oils, homeopathic remedies, natural breath pleasers, clothes/coats, bed and bath products, loads of toys, paw's wax for inclement weather, and fresh, organic treats prepared personally by Gail.
Come by and visit this wonderful, local merchant.   Your favorite, furry '€œbuddies'€ are more than welcome.