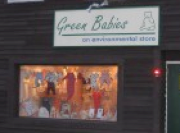 Nyack, Nov 16 — "Green really is safer and better for your kids and for children the world over," says author Lynda Fassa. She's also the babies and families expert on Discovery Networks'  Planet Green channel. "Understanding the environment and our positive place in it is the gift we will leave for our kids." Lynda and Hossein Fassa have opened Green Babies in Nyack as the flagship retail location for their online cotton baby clothes business. The storefront is at at 10 Piermont Ave near the foot of Main Street.
"[We sell] heirloom quality goods at accessible price-points," says Hossein Fassa. Fassa says their store stocks only Fair Trade and made in the USA organic cotton products, organic soaps, natural parenting DVD's and books as well as wooden toys.
Lynda Fassa is the author of two guides to raising organic kids, Green Babies, Sage Moms and Green Kids, Sage Families, guides from green moms and dads on how to go organic and have a green family lifestyle.
Source: TreeHugger.com, GreenBabies.com, PlanetGreen.com