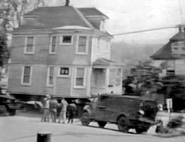 There's a public discussion on Thursday at Nyack High School cafeteria to present plans for a replacement Tappan Zee Bridge. Before that bridge meeting, see Before the Bridge at the Nyack Library on Tuesday 11/17. It's a film about life in the riverfront villages before December 1955.
"When I was nine my mother took me to the opening ceremony for the bridge. I had no idea then how significant that event would be and the coming changes it meant for our lives," says producer Steve Bretschneider. "When the idea of a new bridge was discussed, I decided to document the memories of those who grew up here before the construction of the Tappan Zee Bridge."
In this one hour documentary, 13 residents speak about their lives growing up in a more remote and rural Rockland County than we know today. "With the prospect of a replacement bridge and the changes it will bring, it is helpful to look back at the dramatic impact the original bridge had upon life in the riverfront villages and the rest of Rockland County," says Bretschneider.
See Before The Bridge on Tuesday 11/17 at 7p in the meeting room at the Nyack Library. Call 845-358-3370 ext. 14 for more information.
Source: Nyack Library