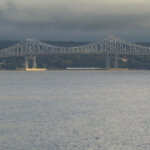 Sept 29: Regional transportation officials and community leaders met in a summit at Rockland Community College on to discuss funding for the replacement Tappan Zee Bridge. In addition to more car and truck capacity, the proposed $16B project includes a rail line from Suffern to Grand Central and a regional BRT (Bus Rapid Transit) link connecting Port Jefferson and Suffern.
Philip Ferguson, head of the project's finance team, had disappointing news for project advocates who are ready to build today.  "For those of you who may have come here today thinking we would start telling you how we're going to pay for all of this, we're not even close to that point in the process.'€
The TriState Transportation Campaign (TSTC) blog says officials are leaving no stone unturned in seeking funds for the project.
For example, raising tolls on the Tappan Zee to $15 would provide only $3 billion in bonding capacity. Financing for the project could also come from a portion of all Thruway toll revenues. Other options being studied include parking fees, tax increment financing districts, gas or even income taxes, and some form of public-private partnership.
"I didn't come away depressed but thinking that there are a lot of answers that are still needed," says Deborah Darbonne,  Chairperson of the Friends Of The Nyacks. The former mergers and acquisitions lawyer told the Journal News that "innovative options are going to have to be explored."
Funding doesn't have to be in place until contracts begin to be awarded in 2013. But the longer the wait the higher the cost. The TSTC reports the final cost could run as high as $23B.
Sources: TSTC.org, Journal News, Ramapo Times 10/21
See Also: Gillibrand's List: $6B For New TZB, www.tzbsite.com