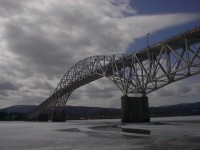 by Cliff Weathers
Far upstate, the Crown Point bridge, which crosses Lake Champlain between Crown Point, New York and Chimney Point, Vermont has been shut down because of massive structural problems and it will likely not open until significant repairs are done to shore it up. And nobody knows when that's going to be'€"it could take years. Governor Paterson has declared a state of emergency in Essex County as has been called for Addison County, Vermont. This has stranded thousands of commuters, who can't get to their jobs or their businesses. It's a regional economic disaster created by many years of inattentiveness to our infrastructure.
The half-mile, two-lane bridge is owned by New York and Vermont and it connects Bridge Road (NY 185) in New York to VT 17 in Vermont. The states do not have the funds to repair the bridge.
You can't read this diary from The Albany Project without thinking of our own deteriorating Bridge, the Tappan Zee, or recall the horrific collapse of the I-35W Mississippi River bridge in Minnesota in 2007.

All these press releases are nice, but still don't answer the question of why an aging bridge that was known to need critical attention was allowed to get to this point where thousands of people in two states, already slammed by a deep recession, are now virtually cut off from their jobs, their loved ones in nursing homes, and even emergency medical care. Right now, the best solution being offered? Telling affected people to drive down to the crossing at Whitehall, NY every day to get to where they need to go in Vermont… a one-way trip of about 75 miles (down the lake and back up again)!
What it would mean to our lives and our community if the much larger Tappan Zee Bridge was suddenly shut down due to massive structural integrity problems? After all, ours is a seven lane, 3-mile colossus that not only brings tens of thousands of people to and from their jobs (140,000 vehicles cross the bridge each day), it is an essential commerce conduit for the State. It would surely be more than an inconvenience; I could see it having devastating consequences to the local and regional economy. That's why I think it's critical that our State officials start moving faster than a snail's pace and start taking our own latent crisis more seriously.
This diary is reposted from the blog Left of the Hudson.