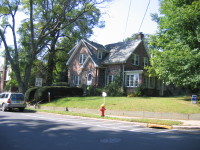 The Planning Board meets on Monday 10/5 to review a request from a developer who bought a beautiful single family house on the corner of Franklin and Haven Ct. and wants to tear it down to build a six unit condo. The current house is made of brick and stone and has a slate roof.
Complicating the timing is the tragic death of John Allgor, the building inspector who staffed the Planning Board.  The Board is scrambling to find staff support from the Village.  Another issue is that the Village will likely pass a new zoning code that would not allow the tear down.
As far as I can read the municipal code, there are grounds for which the Village can deny the requested action.
The current proposal is to demolish the house, subdivide the land into six lots and build attached housing units with driveways in front.  The process would be to first get a demolition permit, then a subdivision approval, and then site plan approval from the Planning Board to build the new structures.
In order to get the demolition permit, the developer will need the approval of the Architectural Review Board (ARB).
59-41.7(6)
Any application for a demolition permit. No demolition permit shall issue until the Applicant gains the approval of the Architectural Review Board, except where a property owner is directed to demolish or make safe a structure under the provisions of Village of Nyack Code § 10-24 or 30-13.
The ARB has broad powers to make decisions based on design and architectural significance.  The ARB is likely to take a tough stance on the request.  If the ARB denies the demolition request, the developer can appeal to the Zoning Board of Appeals (ZBA).
59.-39 D

Appeal of denial of a demolition permit. In the instance where a Zoning Board of Appeals determination was not the basis for the denial of a demolition permit, an appeal of such denial shall be directed to the Zoning Board of Appeals for review and the exhaustion of administrative remedies.
If the ZBA denies the appeal, at the point the developer can sue the Village.
The Village could also deny the subdivision request, but at that point the game has been lost as far as preserving the house.
The Subdivision Code states in its declaration of policy that
…This means, among other things, that land to be subdivided shall be of such character that … all proposed lots shall be so laid out and of such size as to be in harmony with the development pattern of the neighboring properties…" (Chapter 50-1 of the Municipal Code).
The Village has asked a consultant to review the request and advise.