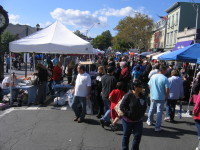 by Doug Foster and Dave Zornow
Based on Sunday's big crowds at Nyack's October Street Fair, you would think that the worst of the recession is behind us. A perfect, sunny day boosted attendance at the last street fair of 2009. "I didn't get a chance to leave my tent, but I'm sure I would have felt like a pike swimming upstream, battling that crowd!" says vendor Allison Hourcade of RockLove Jewelry in Staten Island.
"Sales were up compared to last year," says Alex Entelis, owner and chief toy maker at AE Wooden Toys, a hand-made toys crafted from recycled wood. "People were shopping more and just browsing less." Even the vendors were awed by the attendance. "The crowds started early and continued non-stop all day," says Bazillion Bags' Sylvia Friederich.
Merchants know the first step to sales is strong foot traffic — but browsers aren't always buyers. "The traffic wasn't bad, but there was more browsing than in July, my first Nyack show," says CJ Segal-Isaacson of Hungry Cat Cafe Jewelry.
Vendors tempered their "recession is over" enthusiasm with the reality of what street fairs offer. "Everybody still feels the pinch, but we are all becoming WISER consumers – fair goers are looking for that special something they can't buy at the mall or on a Manhattan street corner," says RockLove's Hourcade. "The increased traffic demonstrates that people aren't opposed to spending money but are reserving it for that unique maybe handmade item rather than a frivolous purchase."
"I'm not sure if the recession/cost-savings measures are coming to an end or not," says Wendy Bialow, the inventor and vendor of Peep Hold Magnetic Eyeglass Holders. "Since my product is a one-of-a-kind item for those folks who require eyeglasses sometimes, people say 'wow, what a great idea'  regardless of the venue." She says people, regardless of the economy, wind up buying something at street fairs.
Jewelry maker Issacson is realistic about street fairs' role as a predictor of our economic health. "Craft fairs are the Target / K Mart of the gift world. I've been able to double my sales over the past two years because compared to jewelry stores who have had a tremendous drop in sales, my prices are at wholesale levels."
Nyack's businesses benefited, too.  The line at Starbuck's went out the door into the sidewalk.  Turiello's was in a frenzy trying to make pizzas as fast as people could order.  La Laterna had full tables on the sidewalk and Maria Luisa's was bustling with people.
Vendors gave good grades to Nyack's street fair. "People were 'green conscious' and 'art Minded.' It was a fantastic experience, other wise we would not come back the second time," says toy maker Entelis. "The abundance of '€œmom & pop'€ shops lining the streets helped to give the feel of a warm and welcoming village," adds Bazillion's Friederich. Vendors say that Nyack's location on the Hudson and by the Thruway helps, too."[The] Nyack fair generates craft goers coming from both sides of the Hudson," says inventor Bialow. "I'm able to reach/give out business cards to a much broader buying public."
Although it was a great day for peeps, one vendor says fair organizers can do more to get the word out that Nyack fairs aren't dog-friendly. "So many dog owners were carrying their dogs in their arms because they didn't want to leave their dogs in the car," says Friederich.
[slideshow id=8]