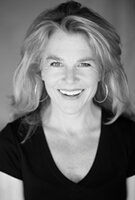 by Jen White
Nyack needs to change.  We have no business playing the game of partisan politics.  There is just too much work to do.
We live in a Village with crumbling sidewalks and not enough tax revenue, with empty storefronts and an underutilized waterfront.
There are pockets everywhere of people who feel unheard and disenfranchised, from developers with ideas for responsible expansion of both our real estate options and our coffers, to out of town visitors who've heard we have parking problems and don't want to come anymore.

The merchants fear for their livelihoods and African American families have been asking for a community center for twenty years and no one has even lifted a finger to assess whether it's something we need or can do.  The elderly and the mothers fear crime.  The elderly, that they will be victims, the mothers that their children will end up following that path.   Five hundred and eighteen Republican voters feel they have no voice in the local government and many citizens worry that their taxes will skyrocket and they won't be able to afford to raise their children or grow old in the place they love.
It was with excitement, about nine months ago, that I decided to run for Nyack Village Trustee. I had dipped my toes into this kind of community service heading up the Nyack Park Conservancy and working on the Park Commission but running for office seemed like the next logical step in working with others to implement change.
The process of getting elected has been shocking, a bit upsetting and more difficult than I might have imagined.   From the moment I decided to run as a Democrat I have been pressured to endorse people whose viewpoints I don't share, simply because we are Democrats.  By the same token, some Republicans who I like and admire and with whom I share beliefs have refused to sit down at a table and discuss issues like sidewalks and development because, simply, I am a Democrat.
It doesn't have to be that way.
So here's a crazy idea.  What if our Village rejected partisanship and replaced it with practicality. Instead of labels like Democrat, Republican, Working Families, Independence, Green and other national level parties we form our own party. Let's call it The Practical Party.
It will be a non-partisan party whose goal is to get things done rather than wallow in the  "us versus them" politics that paralyzes our nation with vitriol, insider politics and criticism.
The Practical Party approach would match daunting problems with creative solutions to implement effective change. Here's one example of how that might work to increase revenue for the Village, add more administrative expertise and improve efficiency.
Based on the work the Parks Conservancy has done raising funds for the waterfront, I know that there are lots of places to go besides taxpayer pockets for infrastructure improvements and programming for the lower income members of our community.
The Nyack Treasurer, who has run an enormous chunk of the Village on a day to day basis, is talking about retiring after serving us well.  Let's use this unique timing as an opportunity to explore hiring a part time, non-staff Treasurer and a Village Administrator to take his place. The new administrator could focus on grant writing and bringing in new business, on economic development and serving as a liason to the community of merchants.
At the same time, let's use this as an opportunity to demand more of Orangetown and the county from the taxes we pay.  Let's also look at restructuring our Village government and reach out to South Nyack and Upper Nyack to find places where we can join forces to increase revenues, improve services, lower infrastructure costs and give the Nyacks' a worthy downtown and waterfront.
The Practical Party will work hard to promote smart growth and encourage healthy, reasonable development projects that will add some land to our tax rolls. Let's make Memorial Park and the rest of the waterfront a destination instead of an afterthought.
These are just a couple of big thoughts.  But we have to start somewhere.  We are a community rich with talent and yet, somehow, not much gets done.  Let's be bold and inspire all of our smart citizens with interesting ideas or thoughts to step up and join the fight.  Let's toss out local partisanship so that Republicans and Democrats can sit down with the Independents and the Green Partiers so  everyone can talk about making our Village a better place.  Let our Village Board meetings be full because people know that their presence matters and their ideas might help and their voices count.   Let's commit to making Nyack the place we all know it can be.
Oh, wait.  Instead of the Practical Party, how about if we call it "Nyack First."
Jen White is a candidate for trustee in the Village of Nyack.