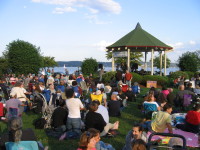 It was a great evening at Memorial Park, at the Health Care Reform rally.  Wonderful music from local bands like Roues Brothers to known acts Tom Chapin and of course the big headliner, Pete Seeger.
There were rumors that anti-health care reformers (the "tea baggers") would be there to disrupt Pete Seeger (the "Communist") and not let him on stage.  Sure enough, there were dozens there holding "Don't Tread on Me" flags and lots of signs like "Obama Lied, Granny Died." In the end the protesters were very respectful and kept their distance and held their signs.  Pete Seeger was late, and by the time he got there, most the protesters had left.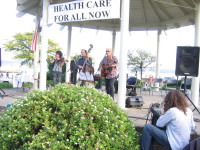 Many people spoke on health care, including Congressman Elliot Engel and local organizer Cliff Weathers.
See also: Add'l photos at nyack.tumblr.com (from Francesco Fiondella)